Charity Quilts
---

Now, my girls are getting into the spirit of making charity quilts. After having watched me work on charity quilts, they both wanted to help "sick babies". For now, the process goes like this:
I let the girls pick fabric from my stash.
I cut the fabric into squares.
The girls arrange the squares however they like.
Sometimes the girls will use crayons to color pictures on muslin, which we incorporate into the quilt.
I do all the sewing and quilting.
The end result is a quilt they designed on their own. :)
We deliver the quilts to the NICU at St. Vincents hospital.
Here are the quilts my girls have designed.
---
Graphics for this site created by: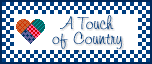 ---
This page created by Valerie Bradley
Last updated: